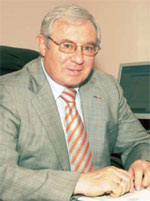 Dear colleagues!
I welcome the successful beginning of the work of the Privolzhsky Scientific Journal. The journal founded by the Nizhny Novgorod State University of Architecture and Civil Engineering, possessing valuable experience in organizing large integrating projects "Great Rivers", has presented a new possibility to consolidate efforts of scientific community of a large region.
According to the Nizhny Novgorod tradition, a new journal can and must become not only a tribune of new scientific knowledge transfer, but also a platform of formation of interdisciplinary teams representing various research centres and different cities of the country.
I wish successful development to the Privolzhsky Scientific Journal to the benefit of Russian science and education.
Chairman of the Council of Rectors of Universities of The Volga Federal Region,
rector of the N.I. Lobachevsky Nizhny Novgorod State University,
honoured worker of science of RF,
doctor of physics and mathematics,
professor R.G. Strongin