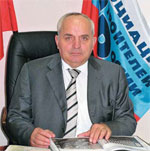 Dear colleagues!
With a feeling of satisfaction I welcome establishment of the Privolzhsky Scientific Journal on the basis of the Nizhny Novgorod State University of Architecture and Civil Engineering.
We, builders, ones of the leaders of a real sector of Russian economy serve an example of successful fulfillment of strategic tasks set by the present time. Having lived through a period of formation and difficulties of growth, the sector confronts the necessity of consolidation and working out a long-term corporative strategy. I am sure, the Privolzhsky Scientific Journal will contribute into the accomplishment of this task.
It is good that the journal is a multidisciplinary publication highlighting scientific problems of construction, as well as technical, ecological, architectural and other fields. Such a multidisciplinary character will help solving priority projects of Russia.
I am sure the journal's editors cooperating with the Association of Builders of Russia will contribute into the provision of Russian citizens with affordable and comfortable accommodation. Builders' experience combined with the science achievements will demonstrate capabilities of the building complex in realization of Russian President V.V. Putin's Address to the Federal Assembly of the Russian Federation, in which he put forward a task to enlarge significantly volumes of construction of houses in the country. I wish the Privolzhsky Scientific Journal successful work in the field of implementation of national projects and improvement of life quality in Russia.
President of the Association of Builders of Russia N.P. Koshman