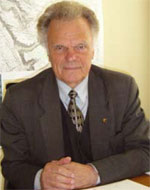 Dear readers!!
On behalf of the Union of Architects of Russia I welcome sincerely a new publication focused on the development of scientific and creative links between regions of Russia. The Privolzhsky Scientific Journal claimed itself as a polythematic periodical that highlights a wide spectrum of issues related to architecture, construction, liberal arts. I am sure this will help widening contacts of Russian scientists and technical specialists.
As an architect, who was working in Nizhny Novgorod, former Gorky, during 20 years, I would like especially to congratulate representatives of the Nizhny Novgorod architectural school contributing greatly into the development of Russian architecture, maintenance of historic traditions, training of skilled specialists. The journal should become a certain platform for publicizing results of work of different architectural schools of Russia, discussion of the achieved results and tasks for future.
I wish stable development to the Privolzhsky Scientific Journal to achieve high targets to the benefit of Russian science.
Vice-President of the Union of Architects of Russia,
Corresponding member of RAACS B.S. Nelyubin