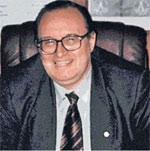 Dear readers!
Russian Academy of Architecture and Construction Sciences welcomes establishment of the Privolzhsky Scientific Journal, which is called to highlight a wide spectrum of issues related to architectural design, construction, energy, ecology, socio-humanitarian development of Russian society.
Creation of the harmonious living environment designed to ensure quality and safety of life, sustainable development of regions, cities, villages is today a priority task of the scientific activities. In this case architecture should serve the forming and synthesizing basis, transfer the spirit of time to new generations, create cultural environment of society. Therefore, it is especially pleasant to see such a great attention that is paid by the journal's publishers to the issues of architecture and civil engineering.
This is remarkable that the establishment of a new journal coincides with the 40th anniversary of the Nizhny Novgorod architectural school, high level of which has been recognized not only in Russia, but also in the world. I wish the editorial board of the Privolzhsky Scientific Journal to maintain a high level of published materials and assist in developing science and creativity in Russia.
President of RAACS, academician A.P. Kudryavtsev